Justice For All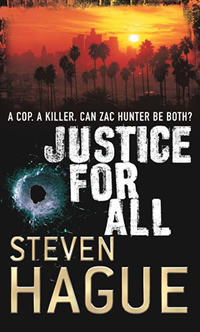 'A debut of the highest order... uncompromising from start to finish'
- The Daily Mirror
'A striking debut novel with plenty of twists' - Paul Johnston, bestselling author of The Death List
'If you loved Dexter, you'll go a bundle on this' - The List.co.uk
'Marries the twists and turns of Coben with the authenticity of Connelly' - www.sonsofspade.tk

'A pacy, page-turning read that's hard to put down' - The Eastern Daily Press

'JFA lays the foundations for what must surely be a marvellous writing career' - CrimeSquad.Com

Zac Hunter's not your all-American hero – he's a good guy to have in the trenches, but a bad guy to have on your case. He's just lost the only job he ever wanted, having been kicked out of the LAPD for whaling on the lead suspect in a string of child murders.

When the suspect walks free on a technicality, Hunter vows revenge, but his decision to turn vigilante puts him bang in the crosshairs of a ruthless assassin.

Rebecca Finch is a hot-shot lawyer who's dedicated her life to defending the accused. When she takes on the case of a playboy drunk driver, feelings run high, and a hate campaign leaves her under increasing pressure to betray her client.

Viktor Danilov has killed more people than he cares to remember, in more ways than he cares to describe, but his life, which he once ruled with iron-fisted precision, has suddenly spun out of control – being on the run from the Russian mob was bad enough, but his new boss makes them look like a bunch of boy scouts.

These three lives interweave explosively, and as the body count escalates, each of them is forced to examine their own sense of justice as they try to survive.